We are professionals in Translation and interpretation
Here you will find a unique space with the solution to all your linguistic needs.
Language solution for your event
Tradu Peru is a full-service provider of professional linguistic services including translation, interpreting, localization and language training. We deliver top-quality language solutions across a wide range of media and communication channels. Our linguists work in all fields utilizing state-of-the-art technology.
We make the world understandable. We contribute to the availability of knowledge. We put ideas into practice. We help people feel happy.
+ Affordable prices state-of-the-art equipment puntuality commitment Human quality Safety in professional activities
+ Experience High Quality and Customer Satisfaction
+ With the ultimate goal of high quality and customer satisfaction.
+ We Offer Complete Transparency
+ Customized Translation Service
+ Our hotline is available 24/7. If you need a fast, professional and customized translation, we can offer you a simple solution.
+ Budgets as soon as possible + Immediate answers + Own equipment with our stamp + Own means of transport + Personal attention + Knowledge in audiovisual and in translation service and team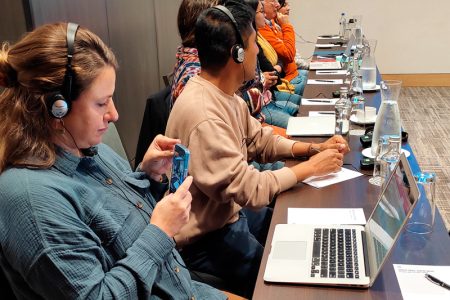 22 years of experience and development are our best guarantee.
Algunas opiniones de nuestros clientes sobre la experiencia de trabajar con nosotros.
You guys intermusicpro did a wonderful job! We had no issues with the equipment and your staff were very helpful.

Praveen Gomez
1800gomez@gmail.com
Country: Sri Lanka
Dear Javier
I was honestly blessed. In the first place I wand to thank for the sacrifice you made to come with those equipment, it was a blessing having them in the midst of multiple languages. Form me the services were great.

Andrew Bundor
National Coordinator
Christian Development Association
Country: Sierra Leone (CDASL) – 27A willoughby Lane 4, Freetown, Sierra Leone
Mobile: +23276966727/+23230634466 – andrewbundorglobal@yahoo.com
Dear Javier
The service was perfect. God bless you matthewokeyo@yahoo.com Country: kenia
Javier: muy buen trabajo standard de equipos como en muchos países. Bien organizado, excelente servicio. En mi visita de trabajo a lima fue muy importante tu labor.

Patricia Guzman
Email: patriciamgz105@hotmail.com
Country: California – Estados Unidos telf., 310 – 7100644
Estimado Javier,
Por mi trabajo viajo mucho puedo decirte que tienes el mismo servicio que muchas ciudades. Estupendo trabajo. Muy buenos equipos. En mi próximo viaje a Perú espero volver a verlos.

Liliana Mattox
Laboratory Manager
Email: Liliana_Mattox@shepardbros.com
Celular: (562) 2338376 – Country. Estados Unidos
Dear Javier,
Greetings! Sorry for the delay in replying as I have just returned to hong Kong. The translation equipment was good and reception was clear. Just a small suggestion regarding the collection arrangement of the equipment from the counter, it was slightly inconvenient at the beginning due to the large number of people, but it was much better towards the end without the use of the coupon.

Thanks,
Serena
Country Japan – Serena Suen - Field Operations – CEDAR Fund
Tel 23819627 Fax 23922777 / serena@cedarfund.org / www.cedarfund.org